Eco-friendly accommodation
We promote a variety of ecologically friendly accommodation options, which aim to use a variety of benign technologies to lessen the effect that we have on Earth.
These technologies include:
Using recycled and locally sourced buildings and materials.
Using sycamore (a local pest plant) to provide air and water heating via a wetback in the Eco Lodge
Using composting toilets in our off-grid Cabins
Processing our grey water through a reed bed
Harnessing the sun's solar power to generate electricity and hot water
We invite you to join us in experiencing the benefits that our choices can have on our planet.
This unique and inspiring Eco Lodge is situated within 50 acres of QEII Covenanted native forest adjacent to the Peel Forest Scenic Reserve. It functions as a residential centre, providing accommodation for education and recreation while encouraging practical resource awareness and conservation through everyday living. Features such as solar power, grey-water wetlands, and the use of locally milled timber – all demonstrate the future of conservation education right here in South Canterbury. 
The Eco Lodge was originally a shearers quarters on Forest Creek Station and was kindly gifted to the Peel Forest Outdoor Centre by the Harpur Family in 2003. With a grant secured from Mackenzie Charitable Foundation of $40,000, the challenge was on for the Founding Director, Wayne Keenan, and Project Manager, Bruce Allen, to relocate the building to its present site!
Mid-Canterbury Building Removals Ltd had the task of transporting the building in two halves and getting it safely down the Rangitata Valley and carefully craned into place here. This was no small feat as the photos on the wall can testify!
Both before and after the relocation of the Eco Lodge, many hundreds of volunteer hours and hard labour went into preparing, relining and finishing work. Much of this work was completed by the Conservation Corp that aimed to engage 16-25 year olds in environmental work, to develop life skills and build their confidence. We often bump into to the conservation corps volunteers who talk about the scale of the impact it had on them and how it changed their lives. Unfortunately, the funding was cut, and the programmes ceased not long after the lodge was in place. Luckily, volunteers from Peel Forest and the wider Canterbury region, continued to lovingly pour many hours of labour into the Eco Lodge.
In keeping with the Peel Forest Outdoor Centre philosophy, the Eco Lodge was constructed with a view to increasing awareness of the natural environment and developing skills for environmental responsibility. Much of its construction has utilised as much recycled material as possible and it utilises resources as sustainable as possible. Power and water heating come from the solar panels on the roof, heating comes from the fires that burn non-natives cleared from the site, water comes from a local creek and grey-water waste is filtered by a reed bed.
In 2022, we received funding towards creation and installing of traps around the perimeter of our property to help keep pests out and encourage more birdlife on the premises. We continue to track our progress on Trap.nz and hope to eventually create a pest-free environment.
Our plans moving forward are to continue to build the kitchen and living area to make it more ergonomically and functionally sound. We would love to be able to offer the Eco Lodge to groups all year round, so we are looking to increase the insulating through adding further environmentally friendly insulation in the roof space and by replacing doors and windows with double glazing. We also plan to bring our existing heat-transfer unit up to fire code so the bedrooms can be heated by the fires in the lounge and the lodge can be enjoyed all year–round.
We are also in a constant battle to keep non-native trees and critters at bay so that native birds and trees can flourish. This involves cutting non-natives for firewood, poisoning them so they can't grow back, and protecting any native saplings. In 2022-23, we ramped up our trapping efforts and set out some high-tech automatic triggering traps. We hope to continue to find funding for these projects and eventually have a pest-free premises.
Any groups who are interested in helping maintain the Eco Lodge and surrounding native species should reach out to us. It's a big job and we couldn't have done any of this without help from the community! 
Check out ways you can help:
Huatekerekere and Tarahaoa Cabins
Named after the peaks of the Tarahaoa Range, these two self-contained off-grid cabins are the perfect spot for smaller groups to enjoy a slice of regenerating native bush. They may also be used in addition to the Eco Lodge for large groups.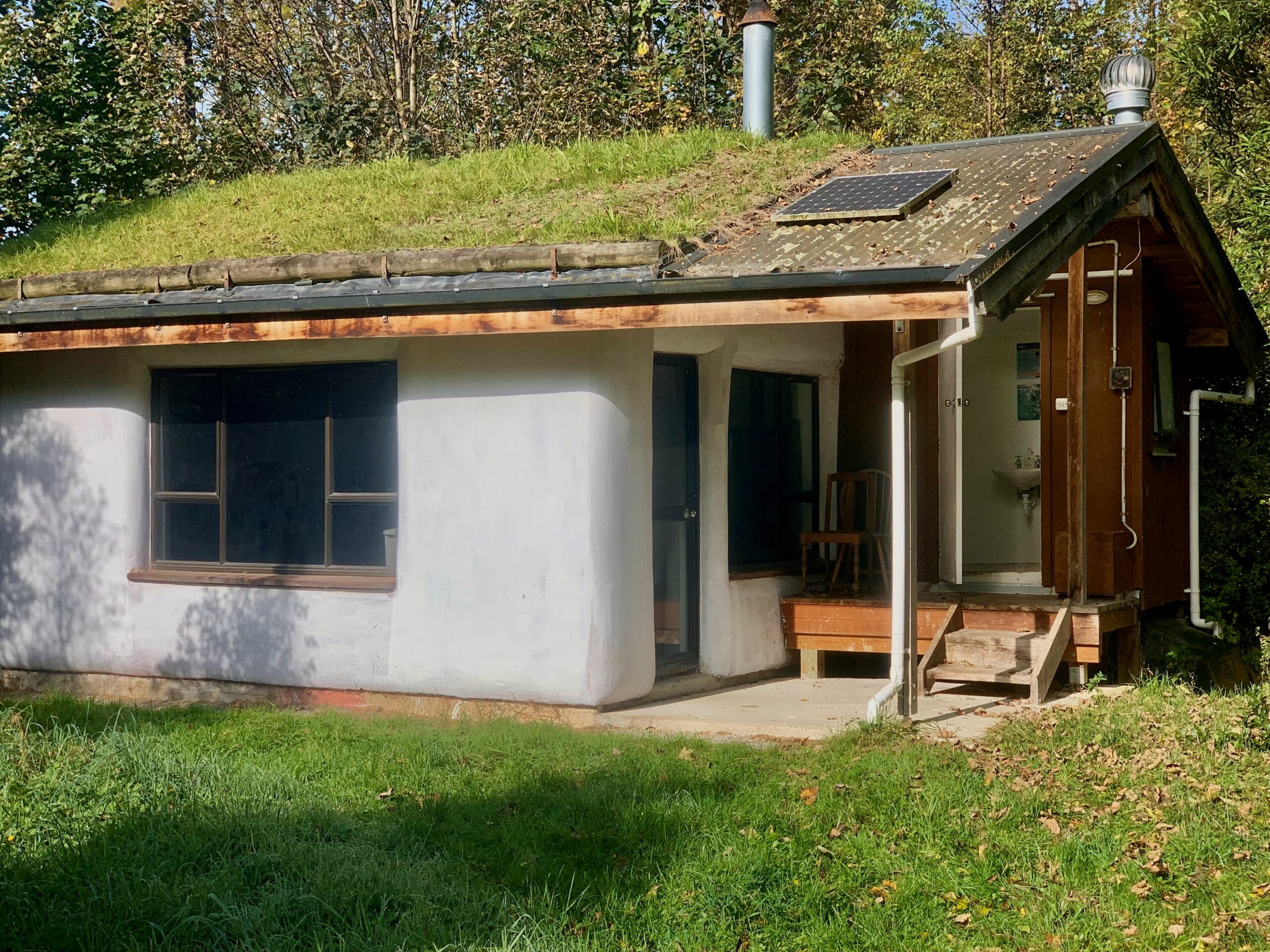 July 2023 Update: 
This facility needs maintenance before it is suitable to stay in again. We hope to have it open for booking again for summer 2023/24. 
Our most basic accommodation, and a feat of eco-engineering, the strawbale has only the bare necessities. Seated among birdsong and bush, it has been used as the site of mindfulness and meditation retreats. 
At the Eco Lodge and Cabins
Groups who have booked accommodation with us may also use our grounds for camping.
This is often ideal for large groups who would otherwise not fit inside the Cabins or Eco Lodge, but are still able to access toilets and kitchen facilities. There is space for tents just outside both the Cabins and Eco Lodge, which must be booked alongside camping space.
DOC Peel Forest Campground and Clarke Flat
The Peel Forest Camping Ground is a large DOC campsite adjacent to the Peel Forest Outdoor Centre property. 
This campsite is ideal for very large groups (60+ students) doing activities with us who prefer camping. 
It is a 5 minute walk away from our site containing modern ablution and amenity blocks, caravan power points and lots of campsites. There are shower, laundry and telephone facilities and a large kitchen area.
Bookings are required during summer. The serviced campsite is closed over the winter – during this time the Clarke Flat amenity area is opened as a self-registered campsite.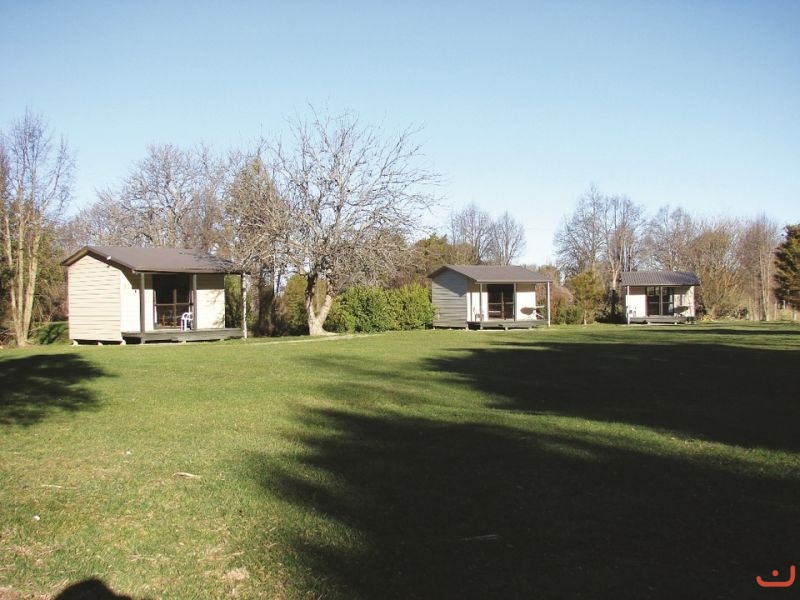 Bookings
All bookings are run through the Department of Conservation, not Peel Forest Outdoor Centre. 
See the DOC website to make a booking or contact them to ask about camping at Clarke Flat.
You should inquire about your activities with us before booking a campsite.
Contact:
Aoraki / Mt Cook National Park Visitor Centre
Phone: +64 3 435 1186
Email: mtcookvc@doc.govt.nz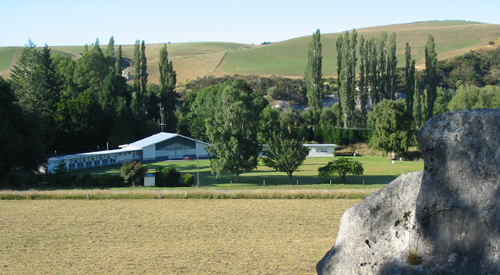 Bookings
All bookings are run through the Raincliff Trust Board, not Peel Forest Outdoor Centre.
See the Raincliff Youth Lodge website or contact them for more information.
You should inquire about your activities with us before booking the Youth Lodge.
Contact:
Phone: +64 3 688 7290
Email: philiz@xtra.co.nz
Raincliff Youth Lodge is located approximately 50 minutes drive from the Peel Forest Outdoor Centre and about 30 minutes outside of Timaru on the banks of the Opihi and Opuha rivers. The Lodge boasts excellent sleeping, kitchen, dining and meeting facilities, sleeping up to 100 people.
This is the ideal location for very large groups, especially primary/intermediate age children, as the facilities are large enough to sleep everyone inside and we have a range of activities we can run from there.